Have you seen the sweet little candy purses at Scrapbooking 24/7 from inkingidaho.com? They are so cute and adorable. Who wouldn't like them!
The directions called for a specific die cut that I didn't have to cut the purses. Thank heaven for my trusty Cricut machine. After playing around a little, I decided to use a shape from the
Art Philosophy cartridge.
If you don't have this cartridge, go grab it. It is a great go-to resource.
Here are the instructions I used to put together the purses:
1) Art Philosophy: Cut Oval 5 on Page 62 at 5" for you base and then again at 4 3/4(using coordinating paper)
2) Score your base at 2 1/4 and fold flap over
3) Cut two slits using your trimmer on the score line about 1/2"-3/4" wide
4) Cut ribbon of choice at 8" and feed ribbon through slit lines
5) Adhere ribbon to middle section of base
6) Take cellophane bag of candy and staple shut and then staple to flap
7) Trim your 4 3/4" decorative paper to fit flap and inside section of base-adhere down
8) Decorate flap with whatever you desire
9) Add glue dot to back of cellophane bag to attach to card base
Close to My Heart Products used in Project
Art Philosophy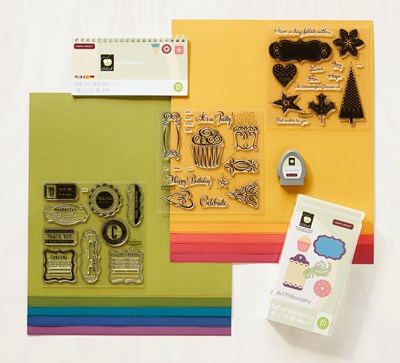 White Pines Paper